If you have school-age children you'll most likely know all about World Book Day.
A day when they're asked to dress up as a character from one of their favourite books.  I was lucky for the first couple of years as my son's school just asked the children to go in wearing their pyjamas, ready for 'bedtime stories'.
The last few years though they've moved to getting the children to pick a book character to dress up as.
World Book Day has become a bigger and bigger event in itself too, and there are loads of amazing costumes you can go out and buy which does make life easier.  I take a different approach though, and just try to pick characters with the children who just wear normal, everyday clothes.
It's super simple, super cheap and more comfortable for the children to wear all day at school.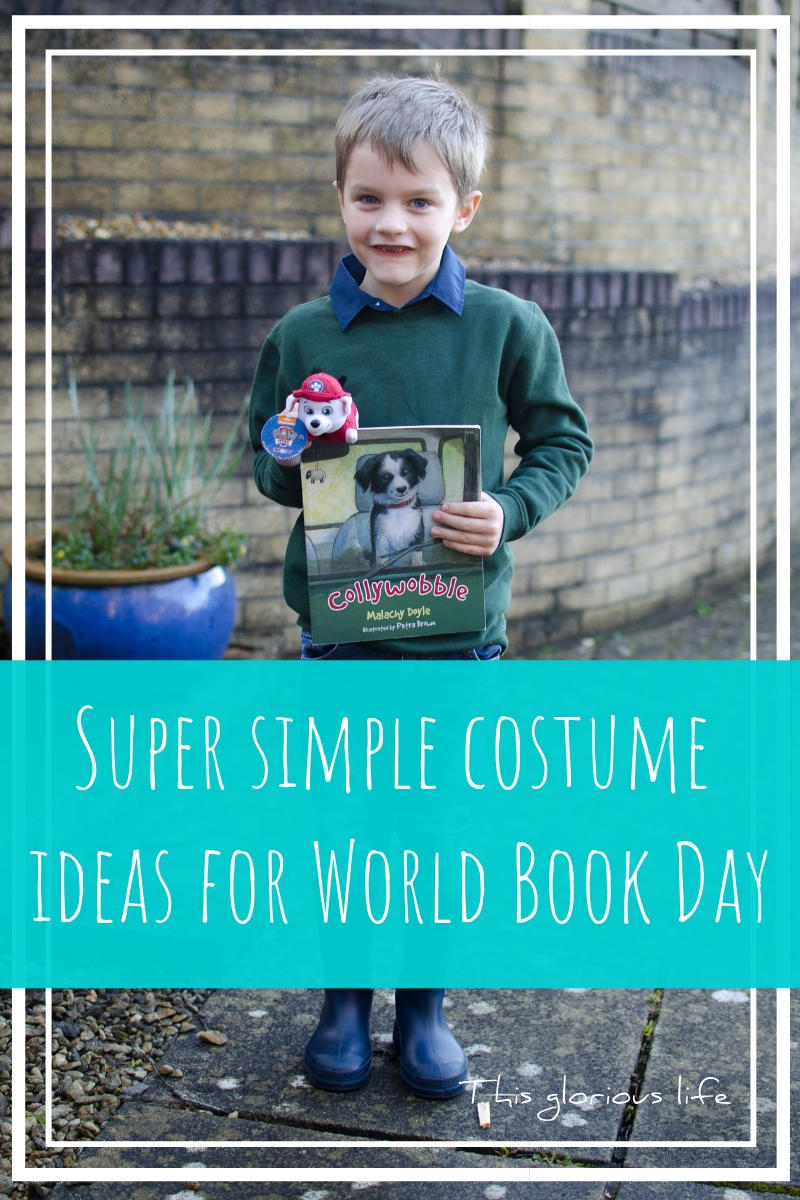 If you're like me and prefer to take the simple route, or if you need a costume at the last minute, here are some ideas to get you started.  I'm giving a simple breakdown of the items you need but it's worth having a quick google or checking your copy of the book to really see what you're going for with whichever character you pick.
Topsy and Tim
You can take inspiration from the TV adaptation here and go for jeans and a blue/white stripey top for Tim and a red/white spotty top for Topsy.  Or if you have some of the books at home then see which one has clothes that most closely match what you have at home.  Generally though it's just jeans and top.  And bunches for Topsy.
Charlie and Lola (and Lotta)
Charlie is easy too, just jeans and a long-sleeved t shirt.  And for Lola you just need a patterned dress/tunic and leggings.  And either little butterfly clips or sections of hair pulled back in little bunches.
Lotta just needs a long sleeve top underneath a pinafore dress, and bunches tied with ribbon.
Farmer Joe – Collywobble
This is who Rhys dressed up as last year.  You just need jeans, wellies, a blue shirt and a sweatshirt.  Ideally a maroon one but we just used green because that was all we had!
Charlie – Charlie and the chocolate factory
Beige trousers, blue checked shirt and blue jacket/zip up hoodie.  If you're feeling creative then you can make a golden ticket to carry.
George – George's marvellous medicine
Blue jeans and a red jumper.  They can take a saucepan and wooden spoon with them for props if they want, or if you have the time/inclination you can make a bottle of medicine.
Characters from 'We're going on a bear hunt'
Jeans and a blue jumper for the older brother.  Yellow shorts and a red jumper for the younger brother.  A blue dress for the sister.
Harry – Harry and his bucketful of dinosaurs
Another one that's just jeans and a red jumper.
To really sell this one though you want a plastic bucket filled with toy dinosaurs.
Dave – Dogger
Green shorts and a red/white striped polo shirt.  And a well-loved toy dog for bonus points.
Sophie – The tiger who came to tea
Blue long sleeved top, purple pinafore dress and blue/purple/white checked tights.
Christopher Robin – Winnie the Pooh
Blue shorts, yellow polo shirt, white socks and black shoes.  And a Winnie the Pooh toy to carry if you have one.
Charlie – Charlie Cook's favourite book
Jeans and a red/white striped long sleeve top.
The girl from ' The paper dolls'
I'm not sure we hear her name in the book, so I'm going with 'the girl' until someone can confirm her actual name!
For this one you need a green/white dress, green tights and red or orange cardigan.  Tiger slippers will really sell it but aren't entirely necessary.
Ellie – Ellie's magic wellies
Red long sleeved top under an orange pinafore dress.  And yellow wellies of course.  A red or orange raincoat to go over the top would be perfect if you have one.
Oliver – Oliver and Patch
Blue trousers, wellies, red or orange jacket and a red/yellow/orange striped scarf.
Matilda – Matilda
A blue dress, a red ribbon in the hair and a book to carry.
Arthur – The truth according to Arthur
Orange shorts and red jacket/top.
Danny – Danny the Champion of the world
Dark trousers and a dark roll neck jumper.  Wellies or boots.  If you have time and want to add some props then a hessian sack or a toy pheasant if you can find one would be great!
Julian, Dick and George – Famous five 
Basically any jeans/trousers/shorts and a jumper or polo shirt.
Anne – Famous five
A dress and a cardigan.
Tracey Beaker
A blue skirt and a red polo neck top.
Clarice Bean
This is pretty much the same as Lola and Lotta – a patterned dress or a pinafore over a long sleeved top.
Hopefully something in this list will fit clothes you already have at home, and make World Book Day a breeze this year.
If none of these suggestions work for you then just take a look at the books you have at home that you and your children love and see what characters are in them that basically just wear normal clothes.  Then just send them to school with either a name tag or a copy of the book itself if it's not clear who they're suppose to be.
What is your approach to World book day?  Do you go for the simple option like me, or do you prefer to go all out with proper costumes?
This post has been shared with #ablogginggoodtime